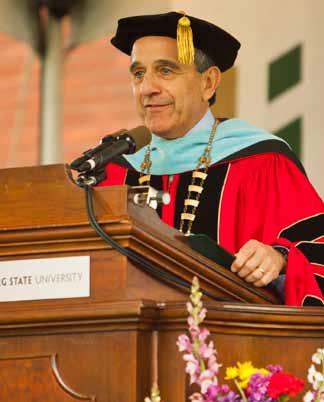 Welcome to Fitchburg State University! For more than a   century, this institution has provided high quality educational opportunities to the people of the Commonwealth. Our legacy began in the 19th century with a former farmhand, Joseph Edgerly, who struggled to get an education and eventually graduated from Dartmouth. As superintendent of schools in Fitchburg, he was a tireless advocate for education. He led the fight for a post-secondary school in Fitchburg, and his vision became reality in 1894.

His heroic effort was mirrored in the following decades by people such as Maude Goodfellow, who graduated with the first class, then stayed on to teach for 40 years, and countless others, who established programs, constructed buildings, and transformed this college into what it is today: a highly respected comprehensive public institution with a long history of growth and a clear record of accomplishment.
That dedication and focus on excellence continues to this day. Things have surely changed—all of our students have laptops, for example, and the campus is wireless. Our academic equipment and facilities have been dramatically expanded and upgraded. Specialized laboratories, smart classrooms and multimedia centers abound.

On a more fundamental level, our faculty has never been stronger, our classes remain small, and our close-knit community still makes it easy to learn and grow. Students graduate with the insight and skills to be competitive in whatever professional environment they choose.

Both my wife, Jeanne, and I earned degrees here, and I count myself among the thousands whose lives have been changed by this most extraordinary college community. To have been afforded the additional opportunity to join the distinguished list of leaders is an honor I could never have imagined, and for which I am eternally grateful.

The Fitchburg State opportunity I have twice embraced is not so different from that which we offer all of our students. The tools for success are in place: ample financial aid, a caring community, dedicated faculty, outstanding facilities, extracurricular activities, and, most importantly, a focus on career-oriented learning firmly grounded in the liberal arts.

There is little that cannot be accomplished, as proven by our placement record and the 35,000 alumni whose contributions extend throughout the state, the nation and the world. The possibilities clearly exist; one need only take advantage of them.

All of us on campus have pledged to devote ourselves to providing students with the support they need, an effort I consider to be among the highest of callings. Best wishes for a rich and rewarding experience.


Robert V. Antonucci
President